รายละเอียดสินค้า
---
Media Converter WT- 9543
MODEL : WT- 9543
Key Features
Automatic MDI/MDI-X selection on RJ-45 port.

Link Fault Signaling (LFS).

Store-and -forward at full wire speed.

Auto-negotiation, NWay support.

Remote and local loopback Test via DIP switch.

When DIP switches are set, the system auto reboots to new configurations
without poweringoff.
Extends distance of up to 2km (6600 feet) multimode fiber and 60km
(198000 feet) longhaul single mode fiber.
Compatible with other 10Base-T & 100Base-TX/FX devices.

LEDs for at-a-glance device status.

Suitable as stand-alone or in 19" 4/12-slot rackmount converter chassis
or the single slot mini chassis (with internal power supply)
Introduction
The Converter is enhanced with Link Fault Signaling (LFS) and Loopback Test
(LBK) functions to offer the most comprehensive network status monitoring and
connection diagnostics. It is designed for large workgroups who demand higher speed
and wider bandwidth. It allows migration and expansion from a copper-based Ethernet
to a fiber optic Fast Ethernet.
It features automatic MDI detection setting. This function allows for simple direct
connection to a workstation, switch or hub. Therefore, network managers no longer need
to worry about cable type configuration when establishing a connection between RJ-45 ports.
This Converter is equipped with an RJ-45 port and a fiber optic ST or SC or WDM
port. This allows it to quickly integrate a 10/100Base-TX network into a 100Base-FX (fiber)
network.
Panel View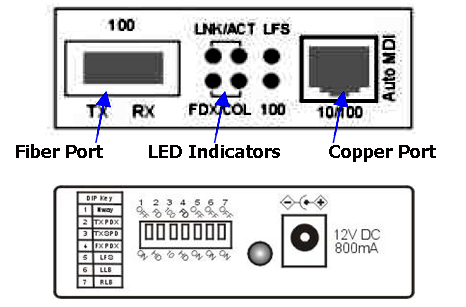 ---
Manufacturers
Dealer
What's new
Like Fanpage